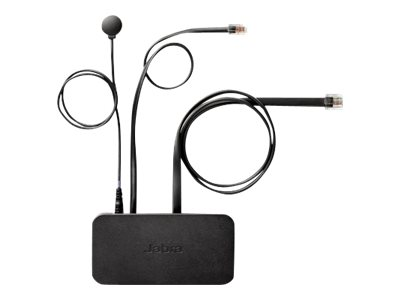 Jabra LINK - Elektronisk kroksvitsjadapter
for Avaya one-X Deskphone Edition 96XX; one-X Deskphone Value Edition 16XX
Informasjon

Hear ring tones
Answer and end calls
Adjust the volume
Mute the microphone

The Jabra LINK 14201-35 enables remote Electronic Hook Switch control (EHS) with Jabra wireless headsets. Jabra wireless headsets with EHS functionality boost productivity as they provide the user with the ability to answer and end a call, while away from their desk.

All quite convenient, when they are up to 450 feet away from their desk! The integration of desk phone and headset allows users to benefit from enhanced mobility and the ability to multitask while on a call. The wireless freedom improves work efficiency and ergonomics throughout the day.