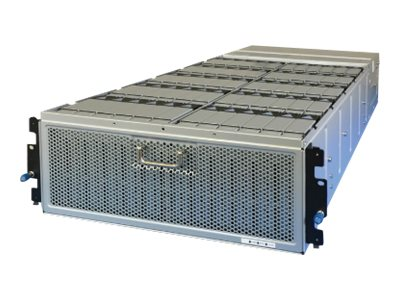 HGST 4U60 - Lagerskap
60 brønner - HDD 8 TB x 60 - kan monteres i rack - 4U
Informasjon

Host connectivity 2 x SAS QSFP+ receptacles per IO Module, optional connectivity cables are available
QSFP+ to HD mini SAS cables for host
QSFP+ to QSFP+ cables for daisy-chaining
Hot Swappable: two power supplies (with integrated fans), drive modules, and IO Modules
Fully compliant with SAS 3.0 specification for operation up to 12Gbps
Cable management arm simplifies maintenance of hot-swappable CRUs

The HGST 4U60 Storage Enclosure is a high-density, scalable, and cost-effective design, using 60 Ultrastar 3.5-inch drive modules in a 4U enclosure. It offers 2x2x4-lane SAS 12GB/s performance, high availability (HA), and hot-swappable components. The design is targeted towards data centers that need a dense solution with HA capabilities, while maintaining a low power profile.